identifying section headings
identifying section headings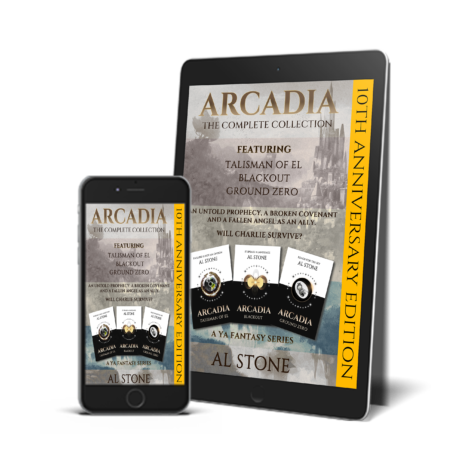 AN UNTOLD PROPHECY, A BROKEN COVENANT AND A FALLEN ANGEL AS AN ALLY.
WILL CHARLIE SURVIVE?
To celebrate the 10th anniversary of Arcadia by Al Stone, we are pleased to offer the complete collection, featuring three full-length novels in a single volume for the first time. Perfect for gift givers, collectors and fans new to the series, this digital collection includes Talisman Of El, Blackout and Ground Zero.
★★★★★
"If there was ever a book series to rival Harry Potter, then Talisman Of El is definitely the one." – The Queen Of Teen Fiction
★★★★★
"Talisman of El is part fantasy, part mythology and pure adventure." – Tina, Winter Haven Books
★★★★★
"This is a one of a kind novel." – Reflections Of A Bookworm
★★★★★
"All I have to say is that it has been a long time since I read a book in just one day." – Myth, Goodreads
★★★★★
"What a great story! I couldn't put the book down! I loved the first book but this one was even better. I can't wait for book three!" – Carol OToole, Amazon Reviewer
★★★★★
"A much faster paced story line pitting Charlie and the Legion against their greatest foes. Charlie is rapidly becoming the leader he was born to be, and mixed between incredible battles with horrifying demons and dealing with antagonistic angels, he maintains his humor and finally develops a romantic relationship with Alex. Thoroughly entertaining and enjoyable, but be prepared for some sad news too." – DGSANDERS49, Amazon Reviewer
★★★★★
"In the second book in the Arcadia series Charlie is in a race for time to save his loved ones. He is on a quest to find a sacred stone, also a Pandemic is about to hit. Add to it his new realization about who he is. He is trying to distinguish what is real and what is not. Twists, turns and danger awaits in this fascinating story. I recommend to those who love an intense adventurous fantasy." – Sheri A. Wilkinson, Amazon Reviewer
The breathtaking finale to the Arcadia Saga will leave an imprint in your mind long after the story ends.
★★★★★
"In the final installment of the Arcadia series everything is on the line for Charlie. He knows who he (really) is. The entire worlds fate is in his hands, as he races against time and enemies to pull it all together. Not knowing who or what to trust becomes a challenge. A great ending to this series of good versus evil. Overall I found Ground Zero enjoyable and feel those who love fantasy will enjoy it as well." – Sheri A. Wilkinson, Amazon Reviewer
identifying section headings
WHAT READERS ARE SAYING

ooo
Like all great authors, Al Stone knows how to captivate a reader thoroughly. I see her writing style as original, intriguing and a new way to bring the next generation towards books.
I realised something very unique that I have never seen before in literature. The entire novel was written through the eyes of the main character Charlie Blake, hence the book cover.
This story was one of greatness and the demons were scary but that's what they are suppose to be anyway. This book is full of adventure that everyone should take apart of.
identifying section headings
identifying section headings
Al Stone is the author of the Arcadia Saga (YA Fantasy). After graduating with a BA in Film & Television, Al worked in the television industry for a brief period before a disabling injury led to a pursuit in storytelling. Talisman Of El is Al's debut novel. The sequels Blackout and Ground Zero are currently available for sale.
At present, Al lives in England, United Kingdom.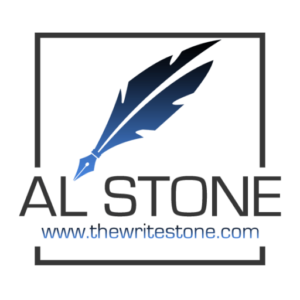 identifying section headings