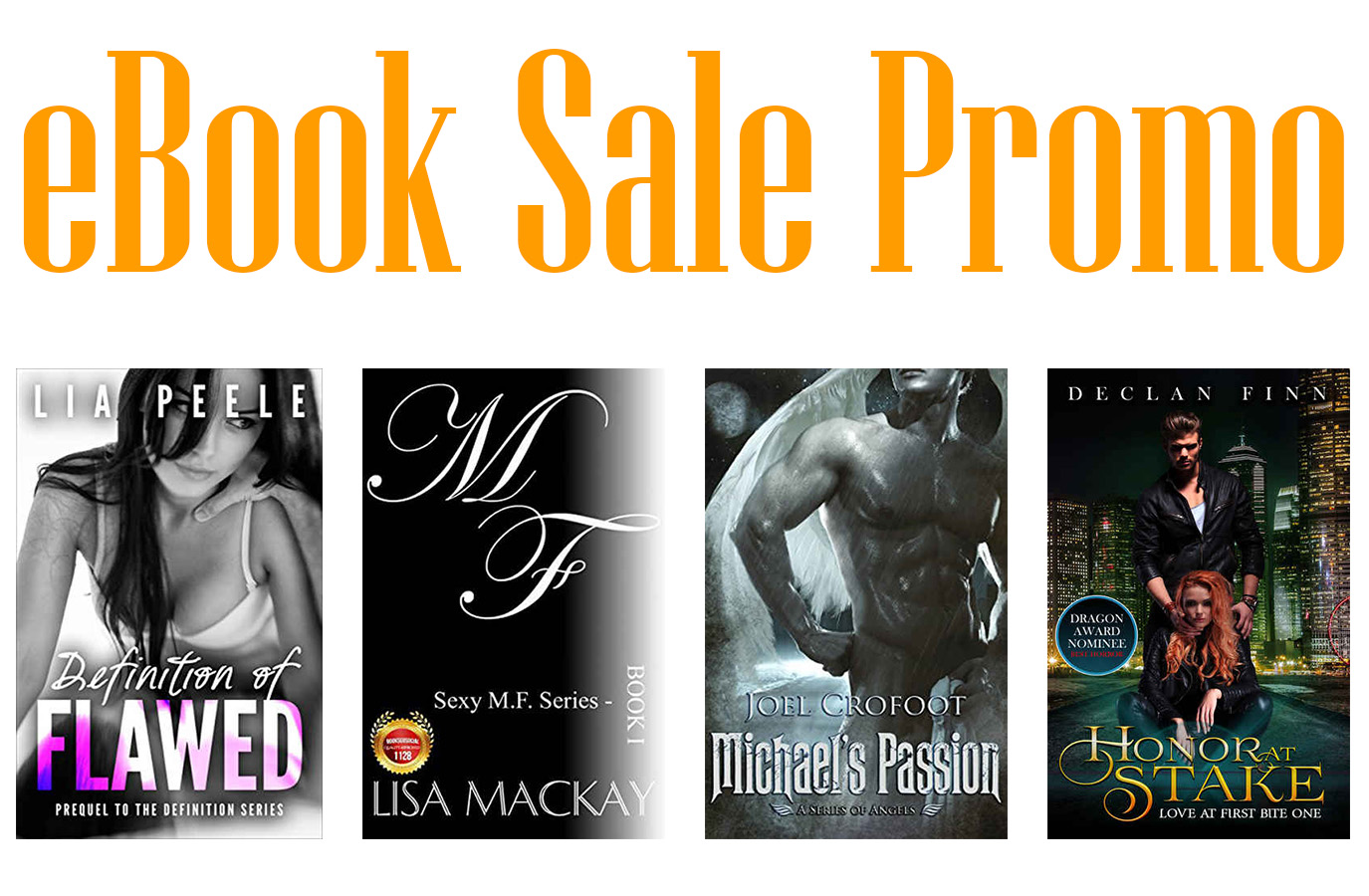 eBook Sale Promo – $2.99 or less
FREE eBooks
Definition of Flawed
Book Description:
Scarlett Trent has been a rule follower all her life. Meeting Paul Jackson changes that. He's rough around the edges, the epitome of sexy, and strong. He's everything she wants and more, but her family is not so keen on their relationship.
His sizzling bad boy vibe pulls at her like an irresistible magnet. With a knack for mixing things up, he stomps all over her rules. Blessed with a body for sinning, and a face like a fallen angel, he's a risk taker who challenges her, and she can't get enough.
When he invites her to move in, excitement replaces her initial apprehension, but that's short-lived when each new day reveals surprising information about him. Paul takes more than he gives and wrecks everything he touches. Every revelation tears them apart and at the same time, her friendship with his son grows closer.
Will she stand by Paul as his issues detonate, or will she follow the rules like the good girl she used to be?
M. F. (Sexy M.F. Book 1)
Book Description:
Young photographer Vivienne Banks could never be accused of throwing caution to the wind. 'Cautious' could be her middle name!
A tragic childhood colours her future and trust must be earned. When her love life hits the rocks, Vivienne hits the bar with devastating consequences.
In his sights already, gorgeous billionaire philanthropist Maxwell Foxx comes to her rescue. But who is rescuing whom and at what price?
Will Vivienne ever truly understand the significance of the M.F. tattoo over Max's heart?
And will Max ever be able to move on from the ghosts in his past, and the bonds that tie him to another?
Michael's Passion
Book Description:
"If you like paranormal romances this is a must read!" -Author K. Munson
When the archangel Michael is forced to rely on his estranged brother Gabriel for help after a demon attack goes wrong, Gabriel places him before the throne of God for healing and it doesn't go quite as planned. Soon they find themselves cast out of heaven and at each other's throats when Michael meets a demon that he can't bring himself to kill.
Jahi is a demonic seductress who uses sex to steal people's souls. It's not exactly her dream job, but it keeps her boss at bay, until a chance meeting with Michael changes her fate forever.
Winner of a Best of 2017, Reviewer's Choice Award, from the Paranormal Romance Guild!
$2.99 eBooks
Honor at Stake
Book Description:
A 2016 Dragon Award Nominee for Best Horror Novel!
One is a heartless, blood thirsty killer. The other is a vampire.
College freshman, Amanda Colt knows few people and wants to know fewer still. She enjoys fencing and prefers facing a challenge every once in a while. She is beautiful, smart, and possibly the most interesting person on campus.
Then she finds tall, intense Marco Catalano in her fencing class. With a mind like a computer and manners of a medieval knight, he scares most people – but not Amanda.They both have secrets, for they are both monsters.
As they draw closer, they must find the line between how much they can trust each other, and how much they can care for each other. Each carries a secret that can destroy the other. But they must come to grips with their personal drama soon, because a darkness rises around them. Bodies keep turning up all over New York, and an army of vampires closes in on all sides.
They have only one hope – each other.