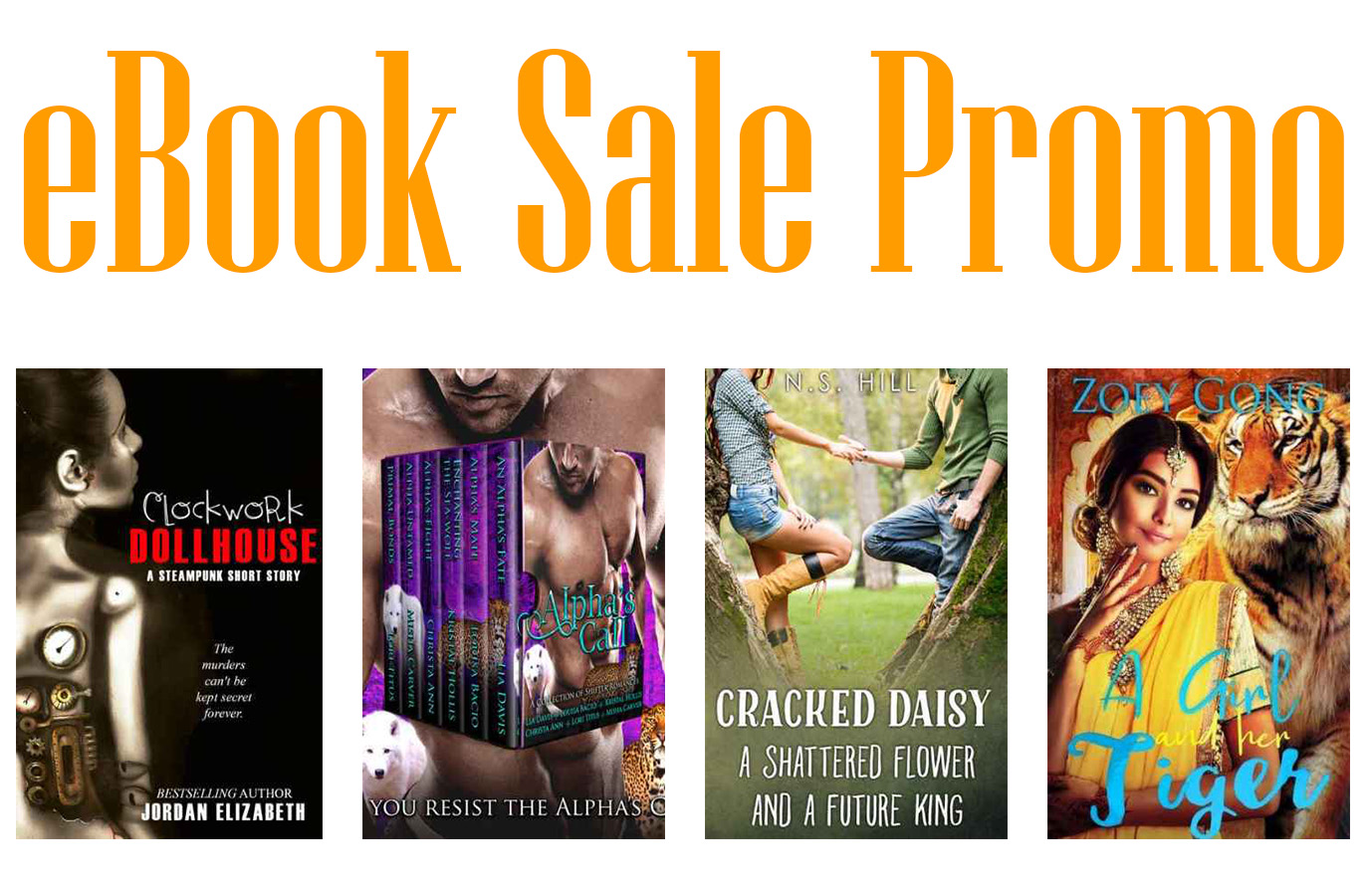 eBook Sale Promo – $2.99 or less
$0.99 eBooks
Clockwork Dollhouse
Book Description:
The clockwork dolls seem to be moving on their own. What are they trying to show?
When Ainsley moves in with her uncle, the governor, it seems like a beautiful situation. An orphan is finding love in an elite household. However, she carries with her the power to reveal her uncle's darkest secrets.
The Alpha's Call Boxed Set
Book Description:
This collection of hot alpha males is a must have for every shifter lover's ebook library. Their fierce, protective, sometimes feral. Only their head-strong, fearless mates can tame them.
Six bestselling, fan-favorite authors bring you action-packed romances ranging from sensual to scorching. Wolves, big cats, dragons, and much more heat up the pages.
Go ahead. Try to ignore the Alpha's Call. We dare you.
Featuring Bestselling authors:
Lia Davis
Lousia Bacio
Kristal Hollis
Christa Ann
Lori Titus
Misha Carver
Releases November 6, 2018! Pre-order your copy today for only $0.99!
Price goes up on release day.
$2.99 eBooks
Cracked Daisy – Book One
Book Description:
When the teacher's pet, A.K.A. school jock offers to help me in algebra, things get tense. Just when I think my summer is gearing towards the worst possible path, Mica swoops in with his quick motorcycle and superb math skills saving the day. I am sure he is keeping a secret from the rest of the school but will I uncover something sinister or enchanting? Will it end in regretful revenge that seems to come easily for a Cracked Daisy like myself?
A Girl and Her Tiger by Zoey Gong (YA Action & Adventure)
Book Description:
She didn't plan on becoming a rebel…
After watching her parents serve in British households for her whole life, Priya grew to despise every aspect of British colonialism. After an introduction to a British family in an attempt to secure a servant position of her own ends in disaster, Priya runs away to try and find a better life.
But she doesn't get far.
Alone on the streets of Bombay, Priya is kidnapped and taken captive aboard a smuggler's ship bound for the slave markets of the Americas.
And in the cage next to her – is a ferocious mama tiger named Nabhitha!
When Priya and the tiger see a chance for escape, will Priya dare to take it? Or will she end up the tiger's dinner?
Follow Priya and Nabhitha on a journey of courage and second chances.
A Girl and her Tiger is the third book in the Animal Companion Series, but each book is a stand-alone novel with new characters and adventures.
Giveaway: Enter HERE for a chance to win a $25 Amazon Gift Card!